You can have a go at designing your own versions of the below, or if you want to take the easier route, there are plenty of sites out there that can provide you with free templates for many of the following. Try Thingiverse, Cults3D or YouMagine, to name but a few.
1. Sliding Bag Clip
The simpler you make it, the cheaper it is to create and potentially sell in large quantities. And small things can often prove to be the most useful. Take the sliding bag clip, for instance. Perfect for keeping foodstuff fresh. And for meeting those unreasonable portion size recommendations that are on the back of that share size pack of chips you've got in the cupboard. I share your pain.
2. Sunglasses Sun Visor Clip
Sunshine can come and go on the spin of a coin, especially when driving. So how about an item that you can affix your sunglasses to but still have them within reach? Search for the above description on Thingiverse, and you're sure to find a worthwhile item that you may be able to make a good seller.
3. Web Camera Cover
Fewer people nowadays feel comfortable with front-facing cameras on devices like a laptop or phone. It's more than likely perfectly fine. But in this age of conspiracies and hacking, it's easy to get paranoid about that discreet little camera on your device. Especially if it sits on a desk in the bedroom while you're getting dressed. But there are plenty of templates out there for sliding covers that block the camera completely. Leaving you reassured that someone isn't watching.
4. The Jumbo Elephant Cutlery Drainer
Highly useful cutlery drainer in the shape of – you've guessed it! – an elephant. Search the Thingiverse, and you'll find the one we're specifically talking about here. It is shaped in a low-poly style. The trunk is used to drain off the excess water. Smart.
5. Self Watering Planter
Well, this one's a bit of a must for all those plant lovers out there! Never again shall your house plant die from water-based neglect (Disclaimer: We actually can't make promises like that. All promises made are for display purposes only … ahem!). Joking aside, these Self Watering Planters, found on Cults3D, can help provide water to your plants and herbs. They can last for as much as a week without a refill.
6. Page Holder
Why not create your own page holder to keep that book open without the ongoing strain to those lovely hands of yours.
7. A Survival Whistle
There are plenty of people out there these days who enjoy outdoor sports and leisure activities, from mountain bike riding to rock climbing and trekking. There's plenty of wilderness out there and plenty of things that can go wrong. And if the unthinkable should happen and you find yourself stranded in a remote location? A survival whistle could be just the thing to gain the attention of anyone else that may be nearby to get you help. It's small and easy to print, and if reasonably priced, maybe just the thing to attract those budding survivalists to your shop.
8. Hodor Doorstop
Want to print a doorstop that pays homage to that much-loved Game of Thrones Character? If you've seen that episode, you know the pun here. If not, then we won't spoil it for you, but this doorstop will have no problems with … keeping your door in its place. Again you'll find the one we're talking about on Thingiverse, and it is well worth a look in our opinion.
9. AA to C Battery Adapter
Okay, so this next one is mind-blowing! How about this? Not only do we provide hearty 3D Printing advice, but now we're heading straight into life hack territory. AA and C batteries offer the same voltage. And if you were to buy one of the C variety, it'll cost you more. But what if there was something out there that could enable you to adopt an AA battery right the way up to a C? You'll find this one on Thingiverse.
10. Drinks Coasters
You'll find plenty of design out there for this sort of thing. It is, after all, probably one of the easiest things for that expensive 3D Printer of yours to create. Again, you'll find a plethora of designs and ideas out there.
11. Plastic Wrench
Why not make a fully articulated wrench from 3D Printed plastic? Good for general use, handy for when you wish to … well … wrench things … really.
12. Bottle Opener
Who doesn't need a bottle opener … am I right!? There are many different designs out there for this essential kitchen utensil. Many of them require an additional element, such as a coin, to provide the leverage. But there's one on Thingiverse that is ergonomically designed and has a curved edge to catch and pry that otherwise elusive bottle cap off with.
13. Stackable Hex Drawers
Everybody can use an item like this. Fit for holding everyday items, like USB Cables, screws, nails, phone chargers and cables, coins… the list goes on and on.
14. Shopping Bag Handle
Plastic bag handles are renowned the world over for being finger killers. So why not print your very own ergonomic comfy bag handle.
15. Jar Handle
Spare that poor jam jar from its fate in the bin by 3D printing a handle, then fill it with something. You'll find this on YouMagine.
16. Ice Scraper
Winter comes, freezes up your windscreen, what you to do, aye? Why not 3D Print a windscreen scraper to fulfil all of your ice scraping needs?
17. Gift Boxes
Presents are always nicer in gift boxes. There's a plethora of choice out there, including a rather nice Labyrinth one that you'll find with no trouble on Thingiverse. However, to unlock it, you must follow the correct path, meaning a little bit of work for the recipient. So probably one of the cheekiest of gift bearers out there.
18. Earbud Holders
Why not look up a template for 3D Printed Earbud Holders? Ideal for keeping those potentially rather expensive little pieces of tech safe and (ahem!) sound when not in use.
19. Toothpaste Tube Squeezer
Are you the sort who likes to get every single last drop of toothpaste out of the tube? Do you stand at the bathroom sink obsessing about it, pinching the tube until all feeling has left your fingertips? Then, why not create a Toothpaste Squeezer to take the load off! The one that we checked out was on Thingiverse. It is printed in three separate parts and is wide enough for most everyday tubes of toothpaste.
20. A Headphone Stand
Most of us listen to music, and for those who are emphatic about it, why not create a headphone stand? Again there are plenty of designs out there for varying shapes, tastes and sizes. Go check it out … or stay with us as we continue. The choice is yours. No … please stay; we're nowhere near done!
21. The Soap Dish
Soap Dishes are quick and easy to 3D Print and can be as basic or as intricate as you wish to make them. We found a few designs on Cults3D, one in particular that came in two pieces, making it easy to wash after use. Plenty of customisation here, pattern or design-wise.
There are plenty more things out there for you to consider creating with your 3D Printer; why not try an SD cardholder? Or a Piggy Bank? Design your own, or use a template from somewhere. And these are all just simple, easy things that you can try. But, perhaps you want to go for something a little more complex? Like an intricate flower bowl, or a phone cover, or games, like a chess set. The list is endless.
22. Coronavirus "COVID-19" Face Shield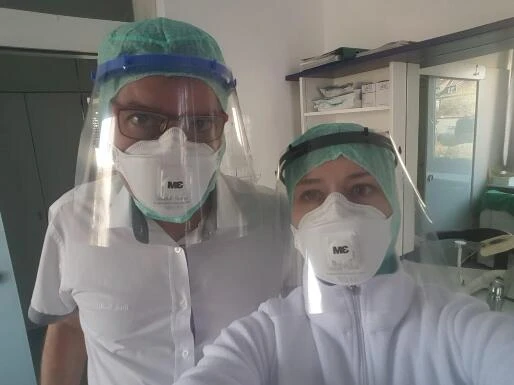 Due to the worldwide COVID 19 pandemic, why not protect yourself and your loved ones and download the model files here and print your very own COVID 19 Face-Shield. The face shield that any 3D printer can easily print. Thanks to Anycubic for sharing!
Happy Printing 🙂